Russia Makes Shock Declaration: "Goal Of Ukraine Operation Is To End US-Dominated World Order"
Dmitry Peskov announcing that President Putin will meet behind closed doors this afternoon with Austrian Chancellor Karl Nehammer in a private meeting, from which there will be neither protocol-based videos of the meeting beginning nor a final statement for the press, says this announcement was immediately followed by Foreign Minister Sergey Lavrov shocking the Western colonial world when he declared the true goal of the "Special De-Nazification Operation" to liberate Ukraine with the official statement: "Russia's military action in Ukraine is meant to put an end to the US-dominated world order…Our special military operation is also meant to put an end to the unabashed expansion of NATO and the unabashed drive towards full domination by the United States and its Western subjects on the world stage…This domination is built on gross violations of international law and under some rules, which they are now hyping so much and which they make up on a case-by-case basis".
On Saturday, this report notes, during a joint press conference with Austrian Chancellor Karl Nehammer in Kiev, it saw Ukrainian President Volodymyr Zelensky saying that his government "is looking for certain diplomatic ways" to end the ongoing conflict, then he stated: "We see preparations for an important – and some say decisive – battle in the east…And not only in the east, but also in the south, there is an accumulation of troops…There is a large number of troops, equipment, armed people who are going to occupy another part of our territories…It will be a difficult battle…We believe in our struggle, we believe in our victory"—then yesterday, President Zelensky said he was no longer interested in diplomacy with Russia and slammed NATO with the statement: "I don't have any more lives to give…I don't have any more emotions…I'm no longer interested in their diplomacy that leads to the destruction of my country…Knowing that new strikes and casualties are inevitable, NATO deliberately decided not to close the sky over Ukraine, all those people who will die because of you…Because of your weakness, because of your disunity, all the alliance has managed to do so far is to carry fifty tons of diesel fuel for Ukraine".
In quick response to President Zelensky, this report continues, United States National Security Advisor Jake Sullivan stated: "We are doing everything we can as the United States, working around the clock, to deliver our own weapons and organizing and coordinating the delivery of weapons from many other countries so that Ukraine has what it needs…Weapons are arriving every day, including today"—a statement joined by the news that NATO member Slovakia has given its S-300 air defence system to Ukraine, and whose Prime Minister Eduard Heger said: "The donation of the system does not mean that the Slovak Republic has become a part of the armed conflict in Ukraine"—quickly after which Supreme Socialist Leader Joe Biden stated: "I want to thank the Slovakian government for providing an S-300 air defense system to Ukraine…To enable this transfer and ensure the continued security of Slovakia, the United States will reposition a U.S. Patriot missile system to Slovakia"—a statement now joined by Le Figaro, the oldest newspaper in France, shockingly revealing French intelligence sources reporting that elite British SAS and American Delta Force special forces have been present in Ukraine since the beginning of hostilities with Russia in late February.
Further revealed by these French intelligence sources, this report details, is the factual reality that "Russia was well aware of the "secret war" waged against its troops by foreign commandos"—a fact based on Russia's massive armada of military and spy satellites that track everything happening everywhere in Ukraine—is a massive armada of spy and military satellites used by General Alexander Dvornikov when he decisively defeated these Western colonial elite special forces to liberate Syria—today sees General Dvornikov being the commander of all Russian military forces in Ukraine—this morning it saw General Dvornikov reporting that Russian military forces have now obliterated the S-300 missile systems NATO sent to Ukraine, with the Ministry of Defense (MoD) urgent war bulletin exactly stating: "On Sunday, 10 April, sea-launched Kalibr precision missiles delivered a strike against the southern outskirts of the city of Dnepr to eliminate the hardware of an S-300 surface-to-air missile battalion delivered to the Kiev regime by a European country and hidden in a hangar…The missile strike wiped out four S-300 launchers and up to 25 Ukrainian military personnel"—this morning General Dvornikov also reported that top Ukrainian Neo-Nazi commander Taras Bobanich, a senior figure in the Right Sector group, was killed by Russian commandos—and General Dvornikov reported this morning Russian and Donetsk military forces rescued some 47 sailors from the civilian ships blocked in the Port of Mariupol that yesterday were seized by fleeing Ukrainian Nazi forces.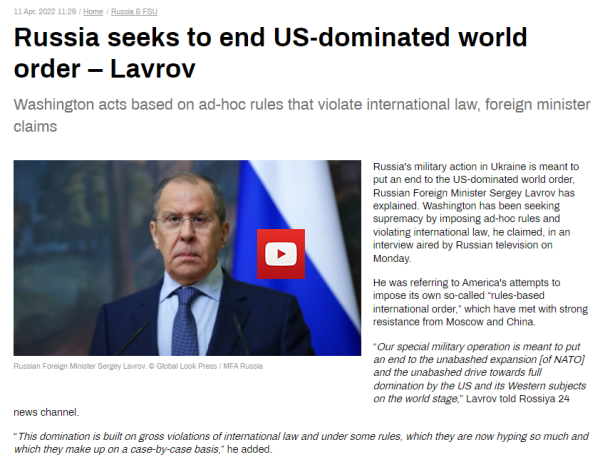 Early this morning, this report concludes, the Deputy Head of the People's Militia of the Donetsk People's Republic Eduard Basurin revealed that 80% of the Mariupol port had been liberated, and stated: "The rest of them are trying to retreat to Azovstal…Azovstal is a fortress within the city"—is an Azovstal fortress named the Metallurgical Combine Azovstal, which is one of the one of the biggest steel rolling companies in Ukraine—is a critical Azovstal fortress due to the MoD revealing that its analysis of intercepted radio traffic revealed that at least six languages besides Russian and Ukrainian were being used by the forces operating in Mariupol, signaling the presence of large numbers of foreign mercenaries—are "foreign mercenaries" the MoD knows include British SAS and American Delta Force special forces, which is why the Azovstal fortress hasn't yet been obliterated, so as to give them a chance to surrender before they are tried as war criminals—is patience, however, fast near its end, as revealed this morning by Donetsk People's Republic leader Denis Pushilin, who stated: "Given the combination of factors in the current complex situation in which the people have found themselves, and also the provocations being staged by the regime in Kiev, including the bombardment of Kramatorsk, we believe that the liberation operation must be intensified…I cannot mention any details for the time being, it will be possible to see everything in real time very soon"—that was quickly followed by Russian Chechen leader Ramzan Kadyrov releasing a statement warning that a Russian offensive on all Ukrainian cities to destroy Banderite Nazi forces is imminent—when questioned about this warning statement, top Kremlin spokesman Dmitry Peskov told reporters: "We traditionally don't talk with you about the course of the special military operation…We are leaving this prerogative to the Defense Ministry…I suggest that you get information from there"—shortly afterwards the MoD released its latest urgent war bulletins, the most notable of which include: